James Bay and Northern Québec Agreement and Complementary Agreements
Last update: 25 July 2014. See Quoi de neuf? for details.
When Complementary Agreements are added, the amendments they contain are integrated into the consolidated Agreement.
The icons New and Updated enable quick identification of documents newly updated.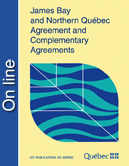 Note to readers:  This administrative codification has been prepared to facilitate consultation.  It is not an official text. The reader is directed to the original Agreements that were the source of this codification.
Certain complementary agreements have provisions whose coming into force is subject to a special condition first being satisfied. The reader is advised to make the appropriate verifications.